AQUA-FEED – a completely organic, naturally occurring mineral.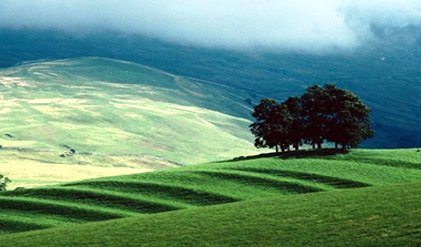 Pozzolan, which we call AQUA-FEED is surface mined in North America. The product was formed 26million years ago when nearby volcanoes erupted and sent silica ash, Ryolite, thousands of meters into the atmosphere where it expanded, forming amorphous silica chambers. The ash then fell into a cold deep lake containing large amounts of protozoa called Diatoms. These tiny organisms whose silica shell was extremely porous and absorbent allowed the efficient movement of water through their body. The pure silica of the Diatoms shell added to the structure of the Ryolite giving it the unique properties which we have applied to agriculture and horticulture.
The principle of absorbing water is through the vast honeycomb of pore space where in excess of 60% by volume of water is retained with the balance being air.
AQUA
-
FEED
's Moisture Release Curve is very efficient, releasing 95% of the retained water back to the vegetation between saturation and theoretical wilt point.
AQUA
-
FEED
does not attract or retain salts, and is permanent, being applied only once. Water is getting scarce, and in some cases very expensive.
Using AQUA-FEED
Reduces the frequency of watering

Reduces labour costs

Reduces wear & tear on irrigation equipment with associated decrease in electricity costs

Reduces the use of fertilizers.

Increases quality and quantity of yields

Allows soil to absorb and hold water

Helps to balance the pH factor of the soil

Forces open and maintains air and water passageways

Accelerates blooming and optimizes maturation

Promotes deeper roots and increases the number of fine root hairs
Tests show that the addition of AQUA-FEED to the soil profile provides the following results:
Increased moisture retention


In a number of different tests, including absorbency testing,

AQUA

-

FEED

retained between 92 and 102% of its weight in water.

AQUA

-

FEED

ensures consistent delivery of moisture to the plants root system. Stored water in the soil horizon was increased 181% over control.



Decreased compaction


The ability of a soil amendment to aerate a soil is a function of the compaction properties of the material. If the product compacts dramatically, soil porosity will decrease, resulting in a less aerated soil. A 46% improvement in porosity was observed attesting to

AQUA

-

FEED

inherent ability to improve the aeration of soils.



High capillarity




AQUA

-

FEED

possesses a strong wicking ability or conduit effect and will actually pull water uphill. Tests show a dramatic improvement in the soil with the addition of
AQUA

-

FEED

which is strong evidence of the product's ability to evenly distribute moisture throughout the soil profile.



No soil expansion


Because of the concerns raised by expansive soils, it is important to document a soil amendment's expansion characteristics. Test results confirmed that

AQUA

-

FEED

exhibits no expansion characteristics and therefore allows the ease of moisture movement throughout the soil.



High CEC (Cation Exchange Capacity)


Due to its high CEC, adding

AQUA

-

FEED

to the soil profile will greatly improve the soils ability to hold onto nutrients.

Know More About Physical Analysis & Benefits of

AQUA

-

FEED

....
Partner: www.westernpozzolan.com