Revolutionary Concept in Sports Turf Maintenance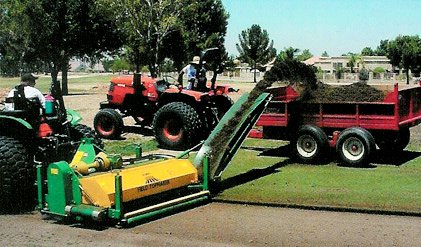 The Field TopMaker (or FTM) can be used in a number of ways to level, clean, de-thatch, and renovate turf areas, as well as the harvesting of sprigs. It is ideal for use on soccer fields, golf courses, polo fields, municipal grass areas and sod farms.

The quality for intensive and extensively played sports fields is determined by the quantity and quality of the turf, weed infestation, grass plant development, and field levelness. For major renovation there is often very little time or money available and resources need to be used to best advantage.

With the introduction of the Koro Field Top Maker a new working system is realized, with the objective of saving costs and improving quality by tackling turf culture, environmental and surface problems which would be detrimental to play.

The Field Top Maker is the machine to bring turf surfaces into perfect condition. For important sporting events like the Olympic games in Sydney, the machine has proven itself. Elsewhere, in the Turf production sector, especially in warm season grass areas, the machine can be used for sprig harvest and maintenance operations.

The Field Top Maker consists of a series of blades which can be adjusted from 5 cm above the surface to 5 cm below the surface. The cut material can be deflected back on to the surface, or transferred by built-in conveyors direct into trailers for removal off site. The machine has a high working capacdy and fine adjustment is possible. A typical soccer field can be leveled and cleaned in one or two days.

Also available is the Verticut rotor for deep scarifying. The distance between the blades is 4 cm and the working depth can be up to 5 cm if the turf root system allows it.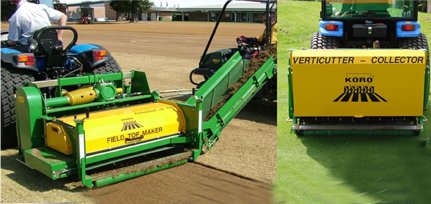 Applications in warm season grass climates
By the mowing action of the machine, weeds and tall grass leafs can be mowed and loaded up in a trailer.

Levelling of "bumps" on soccer fields, polo fields, golf courses and other sports grounds.

By adjusting the machine accurately we can remove weeds, thatch layers or a complete surface. Fields can also be brought back to a perfect smoothness and be back into play after 6 to 8 weeks time with a completely new playing surface.
The advantages are that water draining ability, soil life and stability will not be disturbed. Another option is to lay rolls of turf or to plant plugs after stripping the surface.

By performing a complete renovation we can pulverize the top layer. Or by fraising on low depth we have a low movement of soil and high capacity. The pulverized soil can be left on the field. Deep scarrfying is achieved with the scardying rotor - up to 5 cm deep and removing all material onto the conveyors.
On Turf Production Farms the machine can be used in the following areas to achieve the following advantages;
Leveling of harvested Fields.

Fraising off and cleaning of Fields, un-harvested areas, ribs, wrong rolls, bad areas.

"Field limits" cleaning to prevent different species of growing in.

Doubling of the harvest by complete harvesting of top layer, with conventional methods you can harvest 6,000 Bushels per acre,
Using the Koro Field Top Maker increases your Harvest to 12,000 Bushels per acre.

One extra harvest per year is possible due to:

Top layer holds more moisture

On a level surface we have a level re-growth

Level re-growth makes sure we can harvest uniform rolls of sod.

The use of heavy rollers is no longer necessary because the Field is level.

By not touching the soil below the top layer we hold more moisture in the Top layer and we need less water for irrigation.

Very good operator visibility makes very precise adjustment possible.

Smoothing of fields which are irregular lumps on new planted Fields

Partner: www.koro-systems.com